Human Granulocytic Ehrlichiosis
Human Granulocytic Ehrlichiosis (HGE) is a rare infectious disease characterized by the following symptoms:
(HGE) may include; sudden high fever, headache, muscle aches, chills, and a general feeling of weakness and fatigue (malaise) within a week or so after initial infection. In most cases, abnormal laboratory findings may occur including; abnormally low number of  blood platelets (thrombocytopenia), a decrease in white blood cells (leukopenia), and an abnormal increase in certain liver enzymes (hepatic transaminases – ALT & AST). In some cases, symptoms may progress to include; nausea, vomiting, cough, diarrhea, loss of appetite (anorexia), and/or confusion. If Human Granulocytic Ehrlichiosis is left untreated, life-threatening symptoms, such as kidney failure and/or respiratory problems, may develop. The Ehrlichial bacteria is carried and transmitted by certain ticks, such as the deer tick and the American dog tick.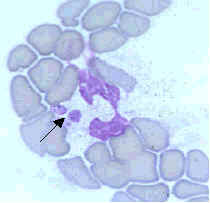 Resources
Lyme Disease Foundation
Centers for Disease Control and Prevention
http://www.cdc.gov/
NIH/National Institute of Allergy and Infectious Diseases
http://www.niaid.nih.gov/
For a Complete Report
 The complete report contains additional information including symptoms, causes, affected population, related disorders, standard and investigational therapies (if available), and references from medical literature. For a full-text version of this topic, go to www.rarediseases.org and click on Rare Disease Database under "Rare Disease Information".
The information provided in this report is not intended for diagnostic purposes. It is provided for informational purposes only. NORD recommends that affected individuals seek the advice or counsel of their own personal physicians.